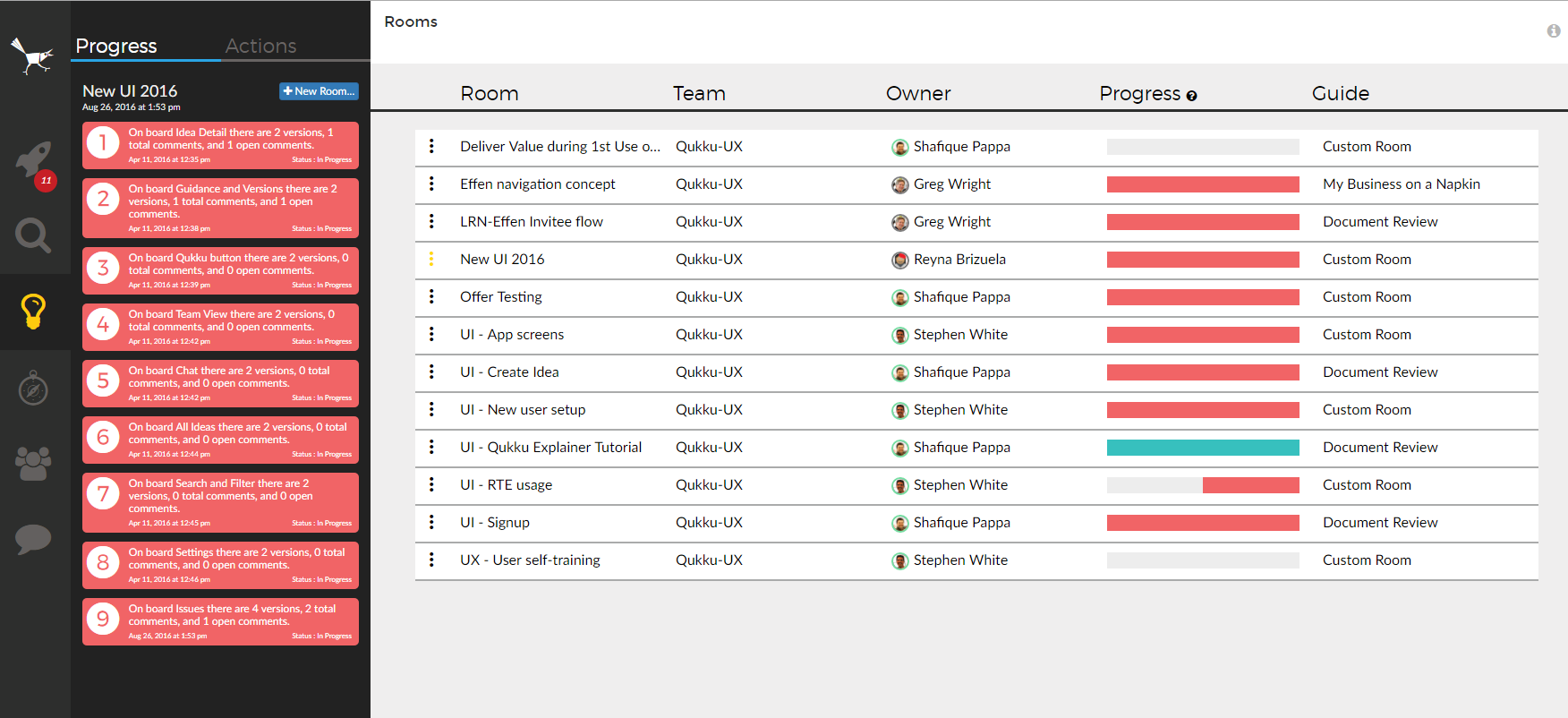 Overview
The All Rooms screen displays all of the Rooms that you and your team mates have created.  You can navigate quickly to the Room by clicking on the Room Name In the Room Column.  The All Room screen has three main sections:
Definitions
Room- A Room is a container that contains one or more Smartboards.  SmartBoards combines your work, the feedback about the work and the guidance to complete the work into one perfect view. 
Team - The team column displays the team name the Room is assigned to.  A team in qukku is a collection of users who can share Rooms and communicate with each other.  You can create as many teams as you would like to work through as many Rooms you need.
Owner - The owner column displays the owner of the Room.  This is the person who created the Room.  You can tell the owners current status by the color of the ring around their Avatar. 
Progress - The color chart below indicates the status of each Board in the room.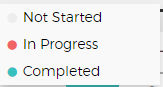 Guide - The name of the Guide used to create the Idea.
Functions
To access the functions you can perform on the room, click on the vertical three dot left of the Room name to select the room.  
Monitor Progress
Once you have selected a room, the smart bar will show the progress tab so you can quickly review the progress of each board in the room.
The following functions can be performed directly by clicking on the Action tab on the far right of the SmartBar.
Follow/Stop following - You can follow/Unfollow an Room by clicking on this menu item.  By following a Room, you will receive notifications when ever there are any new versions published on there is any feedback activity from your team mates.  
NOTE: You are automatically following an Room you create or add any feedback to by commenting on a board in the Room.  
Assign Team - You can assign the Room to another team.  Use this feature to have different functional teams work on the Room as it progresses or Rooms that require cross functional collaboration. 
Archive/Un Archive - You can Archive/Un Archive a Room.  Archiving an Room removes it from the All Rooms View.  You can display the archived Rooms by clicking on the filter tab in the Search SmartBar Filter tab section and selecting "Yes" in the "Include Archived Rooms" Setting. 
NOTE: This Archiving a room effects all users.  This room will no longer show in their All Rooms View.  Only owners of room can Archive a room.
Hide/Unhide - You can Hide/Unhide a room from your personal view.  The room will not show up in your All Rooms view.  You can display the hidden Rooms by clicking on the filter tab in the Search SmartBar Filter tab section "Yes" in the  "Include Hidden Rooms" Setting. 

NOTE: This Hiding a room only effects your view and not other users.  Any user can hide a room from their view.